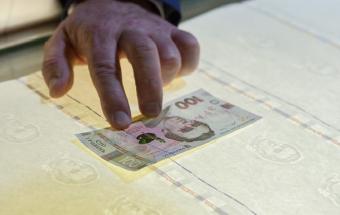 The idea of using the alternative of cotton in producing money is original, but not unique.
The first lot of paper, containing Ukrainian flax for producing hryvnias has already been printed in Zhytomyr region, Correspondent reports.
The National Bank of Ukraine started producing the hryvnia bills from flax. Thus, the factory of banknote paper in Malyn (Zhytomyr region) has already produced the first party of paper, partially containing Ukrainian flax. This paper will be used for producing hryvnia bills, the NBU press-service reports.
"Ukrainian specialists started thinking about the reasonability of using paper in the composition, besides the cotton as well as other plant natural fibers, for example, flax", said NBU Deputy Chairman Yakov Smolii.
According to him, the natural qualities of the flax fiber significantly exceed the cotton fiber in terms of mechanical strength, ensuring the best abrasion resistance of paper.
The idea of using the alternative of cotton in producing money was original, but not unique. According to Smolii, there were cases of using paddy straw or Manila hemp (plant coarse stiff fiber, produced from banana plants) in producing paper money.
Currently the NBU Banknote Printing and Minting Works perform comprehensive testing of paper of the pilot lot for assessing the compliance of new paper and bills with all necessary requirements.
As Correspondent.net reports, NBU sent the revamped 100-hryvnia bill to the International Paper Money Competition, which is organized by the International Banknote Society and the Institute of International Monetary Research.