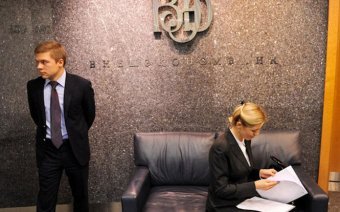 After seizure of stocks of Ukraine's subsidiary Prominvestbank, the Russian State Vnesheconombank (VEB) decided to initiate the investment dispute in international arbitration under the intergovernmental agreements between RF and Ukraine on encouragement and mutual protection of capital investments dated 27 November 1998, Interfax reported to the agency in VEB's service.
As the state, Ukraine will act as the respondent.
The subject matter of the claim will be VEB's collection of compensation from Ukraine for violating the investor's rights protection standards, stipulated by intergovernmental agreements as well as the illegal expropriation of investments.
"As per the approved decision, the first procedural step will be: Vnesheconombank, as the investor, will send the written notification on investment dispute to Ukraine. If the dispute is not resolved by negotiations, it will be subject to consideration in the Arbitration Institute of Stockholm Chamber of Commerce. The Bank is ready to use all instruments, stipulated by both Russian and international law for protecting the right and legal interests of Vnesheconombank", VEB stated.
It should be reminded that Kyiv Court of Appeals seized shares of Ukrainian "subsidiaries" of VEB, VTB and Sberbank pursuant to the Hague Arbitration decision on "Crimean" claim of former owner of the nationalized PrivatBank Igor Kolomoyskyi.