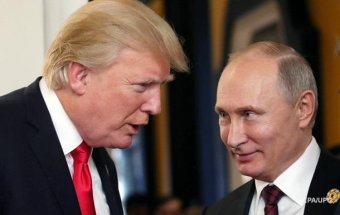 Trump and Putin may meet twice this year.
The short meeting will be held in Paris, and more continuous meeting may take place at the summit in Buenos Aires.
The meeting of RF President Vladimir Putin and U.S. President Donald Trump on November 11 will be brief, Assistant to RF President Yuri Ushakov stated, Korrespondent.net reports quoting RIA News.
"At G-20, it will be a continuous and full-scale, and in Paris, it will be short and brief", Ushakov said.
According to him, the meeting in Buenos Aires is still being agreed.
"It is difficult to specify the tentative time of the meeting; for now, it is impossible", the assistant to the president added.
Reportedly, Putin and Trump plan to meet in November 11 in Paris, where the events, dedicated to 100th anniversary of the end of the World War I.
President of Ukraine Petro Poroshenko will also arrive these events, but the meetings with Trump or Putin were not reported.