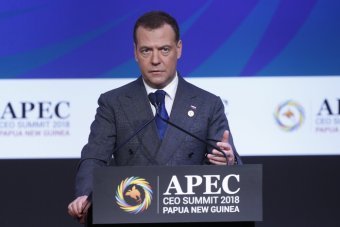 As INTERFAX.RU reports, RF Prime Minister Dmitri Medvedev noted the need to improve the World Trade Organization, but without weakening its role and moreover – demounting.
"Like many countries, we admit that the organization (WTO) really needs renewal, but without weakening its influence, shattering the basic principles of its operation, moreover – its demounting, which would mean the collapse of civilized trade", Dmitri Medvedev said during APEC Business Summit.
He encouraged joining efforts for enhancing the efficiency of WTO and its regulatory role.
"Russia assumes that only based on WTO's transparent regulations, which take into account the specifics of each economy of the Asian-Pacific region, each economy of APEC, it is possible to create the Asian-Pacific Free Trade Area, make it a really open market, but not a narrow format system of collective protectionism", Dmitri Medvedev said.